The "engine room" which drives the Hurricane Go Kart Club. They're volunteers. Be nice.
President
Robbie Bertram
0409 370 497
Life Member. Picked up the presidential reins when Big Al stepped down in 2016.
Raced Clubbies and is planning a comeback in TaG125 Restricted, but finds it difficult to drag himself away from officiating at clubruns, and Open meetings around the State. Even the Nationals.
VeeP
Gavin Kennedy
0418 951 238
Races KA4, KA3, R125 Masters and Open Performance.
Would race pedal karts if there was a class.
Secretary
Amy Sears
0412 644 520
hurricanegokartclub@gmail.com
Races KA4 and TaG125 Restricted.
BUT NOT ENOUGH, AMY!
Treasurer
Jessie Harman
0400 749 223
Races KA4 and Open Performance.
Other Committee Members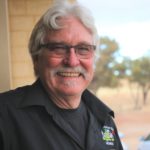 Alan Wilks
0418 923 994
Life member. Former Club President (stood down at the end of 2016).
Officiates at meetings as clerk of course or steward. Became involved in karting through his son, Brandon.
Pretends to drive Vintage karts, but really just tinkers and does the occasional practise lap or two.
Brett Styles
0419 903 183
Says he races WA Open Performance class, but it's been so long since anyone's seen him in a kart, we're treating it as a rumour.
Heavily involved in officiating at clubruns, and Open meetings around the State.
Troy Worboys
0499 009 396
Used to race TaG125. Divides his time between Stewarding and helping his daughter, Jemma, now she has started racing. (It's a real family affair as wife, Cassie, is the canteen manager!)
Tony Arambasic
(Tall Tony)
0408 312 546
Races R125. Looks like a frog in the kart with his knees stuck up around his ears.
Daniel Curry
0408 900 865
One of the KZ2 hots shots. Seriously talented and super approachable. His son Riley is now old enough to race and is the next generation of Curry in a Hurry.
Hayden Patrizi
0428 952 394
Gary McKenzie
0414 423 422