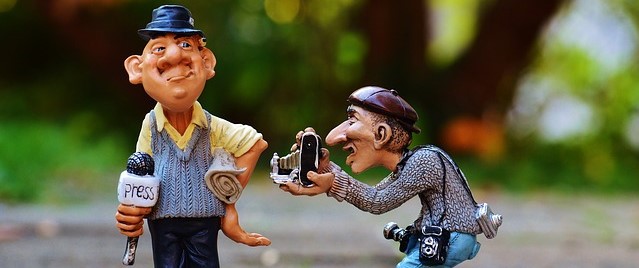 26th July
The King of the Hill is "going to be huge"
So says club president, Robbie "The Prez" Bertram.
Always the premier event in WA karting, this year sees the return of the 2-day event trialled last year, in which the Seniors and the Juniors have what amounts to standalone events. So although the event runs over two days, only a one day commitment is required from the competitors. And with fewer classes on each day, there's little time for the drivers to stand around getting bored. It's full-on.
The seniors run on the Saturday, with featured classes being the KZs in the 4th round of the State Series, plus Restricted 125 Light & Heavy, who will compete for the trophy and title of King of the Hill.
Following racing on Saturday, things don't slow down, with presentations and a live band on the agenda. There will be random prize draws and camping is not only permitted, but encouraged.
Sunday will be just as hot, when the Junior and Cadet drivers strut their stuff. Plus, there's the big raffle draw (see next news item).
You do not want to miss this big weekend of racing. Saturday 25th and Sunday 26th August. Full details in the supplementary regulations. View here
New Major Sponsor
Hurricane Go Kart Club is delighted and proud to welcome on board a new major sponsor for this year's King of the Hill in Polmac Trailers.
In times when business is doing it tough, Polmac Trailers have dug deep to support grass roots motorsport in WA and Hurricane Go Kart Club can't thank them enough.
And everyone has a chance to benefit from their sponsorship as they have kindly donated a fantastic karting trailer which is being raffled off.
Tickets are currently on sale and will be available at the next clubrun on 18th August, as well as the KOTH the following weekend, of course. The draw for the trailer will be held on the Sunday after the Juniors and Cadets have finished racing.
Gotta be in it to win it!
1st March
Lake King Kart Club say "SEZ is going ahead"
LKKC yesterday announced that Round 1 of the South East Zone series will be going ahead, regardless of entry numbers. They advise that KA3 Junior and TaG125 Restricted Combined will be run "regardless if they meet the minimum of 4 entries." Currently, these classes have 3 and 2 entries respectively.
No mention was made of what they will do with KA4 Junior Heavy or TaG125 Heavy – which currently have no entries – if any late entries are received for these classes.
LKKC are entitled to cancel those classes with less than minimum numbers by close of entry, but have chosen not to do so, allowing karters from those classes to have some fun. So good on LKKC for not cancelling these classes.
8th February
February Clubrun Changes
We will be starting a bit later at the February Club day. Timetable as follows:
Gates Open: 1pm
Practise: 1:15pm to 3:30pm
Canteen Open: 1:30pm
Scrutineering: 1pm to 2:30pm
Close of Entries: 2:30pm
Officials Brief: 3:30pm
Drivers Brief: 3:45pm
Racing from 4:15pm
23rd January
Western Cup Round 1 Supp Regs Change
IAME X30 Technical Information
Owing to delays in shipping from Italy, none of the alternate X30 components that are the subject of "Homologation and Technical Specification Update Bulletin 78H – 4 " dated 30 November 2017 will be permitted for use at Round 1 of the Western Cup.
16th January
Cancellation
Due to lack of entries, Albany City Kart Club has cancelled the Southern Sprint meeting. Their committee is currently looking at alternative dates later in the year.
This is sad news for the kart club, karting in general, and for those people who had already entered.
7th January
Supplementary Regulations for the Southern Sprint and Round 1 of the Western Cup are now on the website
View them here
29th December
The 2018 State Regulations have been released
View them here
15th Dec
The 2018 WA Karting calendar has been released
View it here
16th Nov
Karting Australia pushes the start button on National "Club Driver Rankings" in 2018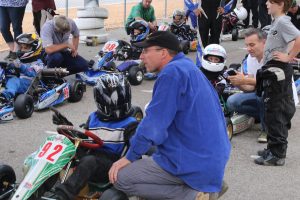 Karting Australia is set to launch an exciting National point score system to provide the Club-level racer with extra incentives to compete at their local Clubs more often in 2018.
The Club Driver Rankings (CDR) will provide the opportunity for Drivers to not only see how they are faring against drivers in their home Club but against any other Driver across the Country, while vying for thousands of dollars in prizes.
"Club-level racing is a vital part of Australian karting. The new Club Driver Rankings program will enable Drivers to race locally and be ranked nationally," said Karting Australia Chief Executive Officer Kelvin O'Reilly.
"It's about those Drivers who turn up month after month at their local Club to compete and allowing them to see where they rank on a National scale but without the added expense of traveling across the Country. It's also about encouraging Drivers to race at their Clubs more often.
"Entry into the Club Driver Rankings is free for participating Clubs and Drivers and has been made possible by utilising the resources, data and systems provided to us by our new timing partner MYLAPS."
The 2018 Club Driver Rankings prize pool will be announced in the coming months, along with an incentive program for participating Clubs.
Clubs will be required to nominate a maximum of nine Club Meetings between 1 February and 31 October that will count for Driver Rankings.
A Driver's six best Race Meetings in a single Class at each Club will be tallied up to create their final Ranking. To be eligible for an end of year Ranking, a Driver must compete in a minimum of four Club Level Race Meetings at a single Club in 2018.
Drivers can compete at multiple Clubs and in multiple Classes or Divisions, however their points at different Clubs and in the different Classes will not be combined in the overall Rankings.
"While winning is a bonus, it's also about participation with the point score equalised across small, medium and large sized Clubs," added O'Reilly
"As all races count in the Rankings, finishing well in the heats as well as the final becomes important. It doesn't matter if you race at Port Hedland or North Shore your chance of National Ranking recognition starts in 2018."
More information on the Club Driver Rankings will be provided in the coming months ahead of the first point scoring events in February.
25th July
Supp regs for the 2017 Arise Racing KOTH have been released and are now available for viewing.
15th July
2017 Arise Racing King of the Hill
That's right. Arise racing are announced as naming rights sponsor for this year's King of the Hill.
It seems only fitting that the organisation that provides ultimate motorsport experiences would want to support WA's premier karting event. Welcome on board.
Arrangements are well under way for this year's event and, as usual, Hurricane are changing up how things are usually done. This year, it's innovation in event format.
13th June
Members Business Register
Hurricane is pleased to advise that the Members Business Register is now up and running on the website. Read all about it HERE
9th June
Shopping in the fast lane
Amy's been able to cut down on the time it takes
to do her weekly shopping, but the other shoppers
look at her funny.
Brian Smith Memorial Clubrun
Congratulations to all involved.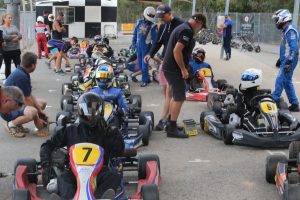 Big turnout
It was great to see so many people turn out for the BSM last month. 97 entrants. It's been quite a while since we've had that many drivers at a clubrun, which is a testament to the high regard in which Brian was held by all in the WA karting community.
I say, "all", as we had a good number of karters from other clubs join us on the day. They were all welcome, and I hoped they felt welcome. The weather played its part, with sunshine through to last light.
All the J's on the outgrid, Ross Sears on pole
Big Thanks
Thanks must go to the committee, who put in a lot of hard work to ensure the success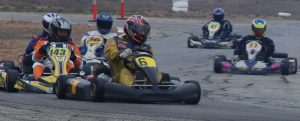 of the day, with prizes for KA4 Seniors and for Cadets. Thanks also to those businesses and individuals who donated – sometimes more than was asked – when they heard it was for the BSM.
Despite technical problems with the CMS computer dogging us early, Gus worked like a trooper to get it sorted and finally managed to get the karts rolling.
Brian's son-in-law Ron Pearce in Brian's kart, chasing trophy winner Kelvin Davies into the bus stop.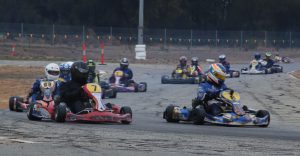 "J's" out in force
Of the 97 drivers, 19 of them – by far the biggest field of the day – were in KA4 Seniors, Brian's favoured class. And in homage to Brian, it was full of J's. It had people who had never raced J's, or even KA4, previously.
One feature of the event had nothing to do with kart racing. It was a foot race of Cadet 9's & 12's from the formation line to the finish line, all in their driving suits, of course.
BSM Trophy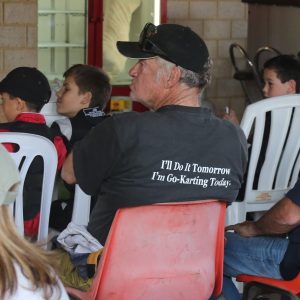 The Brian Smith Memorial Trophy winner was selected by last year's winner and went, with universal approval, to one of our "lifers", Kelvin Davies. Into his 60's and still giving the young ones a hurry up. 'On yer mate.
In what will become the tradition, last year's winner, Dave Harris, selected this year's winner and presented the perpetual trophy.
Kelvin telling it like it is.
Hurricane Spirit
The Hurricane spirit really shone through at the May clubrun. Well done to competitors, officials, canteen staff, pit crew, family supporters…to everyone who made the day such a success.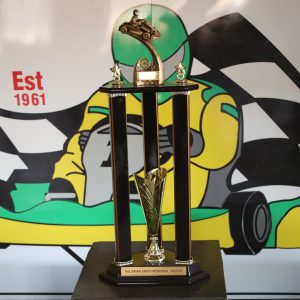 8th June
J Revival meeting at the Collie Winter Cup
3rd May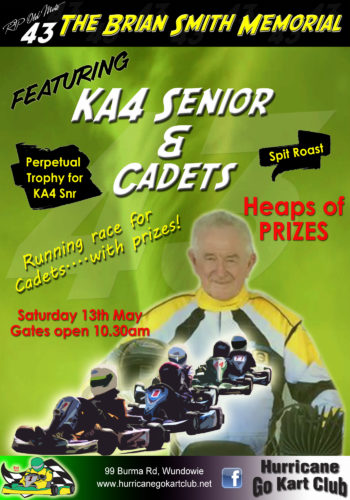 The Brian Smith Memorial Clubrun
The April Newsletter is available on the website. If you have read it or were at the April clubrun, you will be aware that the committee have been busy making sure that the Brian Smith Memorial clubrun in May will be a meeting to remember. With all the prizes on offer, it will be competitive, it will be fast, but above all, it will be FUN.
It will have a different format to any clubrun we have had before, so please check out the special supplementary regulations on the Supp Regs page.
Those of you who knew Brian will know that he embodied what clubrun karting is all about – or should be: He just wanted to race and have fun doing it, without worrying about the result. Even as his illness was overtaking him, he was out there getting race training to bring his times down. Talk about living for today!
So tell everyone you know to make the effort to get out for the May clubrun. Doesn't matter if they're not Hurricane members. Drivers from all clubs are welcome. In fact, non-drivers from anywhere are welcome. We would love to have anyone who wants to, to help out on the day. And it would be great to have people from outside of karting come along and spectate.
If you know anyone who's open to seeing something different, bring them along. This is going to be a great family day and we're really hoping to see you all there.
Anyone who wants to be involved, or wants more information about the day should call Amy on 0412 644 520, or email her at hurricanegokartclub@gmail.com.