IT'S ON AGAIN IN 2018.
25th-26th August
The King of the Hill is a State Cup meeting and is the premier meeting in WA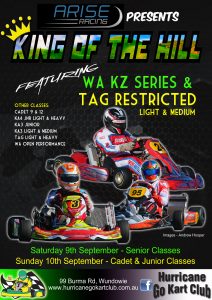 outside of the State Championships. In fact, it often draws more entries than the State Titles.
This year will be the 9th running of King of the Hill (KOTH) We were delighted that Arise Racing chose to come on board as naming rights sponsor for the 2017 KOTH and hope they will extend their involvement into this year. Hurricane urge you, too, to get on board and be part of the action in WA's premier karting event.
Origin of the event
Restricted 125 is a popular class, yet it is not recognised as a championship class and is therefore not represented at State or National level.
Hurricane thought the R125 light & heavy drivers should have the opportunity to test themselves against the best in their class, so created KOTH to showcase these drivers and give them the opportunity to claim the title of Kings of the Hill. Or, as was the case in 2013, King and Queen of the Hill (Well done, Kerry Foster)
The 2018 KOTH also incorporates the very popular WA KZ Series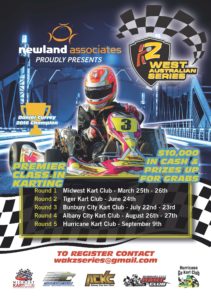 The KZ's are the fastest sprint karts we see here in WA.
Listening to the engines peak at the start gets the adrenalin pumping – and that's just the spectators!
Acceleration is – well – simply astounding, with their 6-speed sequential gearbox.
Stopping power is equally impressive through four-wheel disc brakes, and the sticky MG Yellows load up the G-forces through the corners.
Always furious racing. Always a crowd favourite.
Since its inception, Hurricane have always made this this event a little special. Whether it be the free pizzas or the fireworks, there's always been something different. Last year, Saturday was all about Senior drivers, while Sunday was reserved for Juniors and Cadets. This year? Wait and see…
So, if you haven't been to King of the Hill before, put it in your diary.
It's not to be missed."