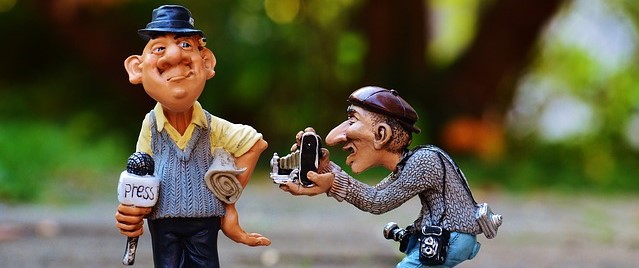 25th July
Supp regs for the 2017 Arise Racing KOTH have been released and are now available for viewing.
15th July
2017 Arise Racing King of the Hill
That's right. Arise racing are announced as naming rights sponsor for this year's King of the Hill.
It seems only fitting that the organisation that provides ultimate motorsport experiences would want to support WA's premier karting event. Welcome on board.
Arrangements are well under way for this year's event and, as usual, Hurricane are changing up how things are usually done. This year, it's innovation in event format.
13th June
Members Business Register
Hurricane is pleased to advise that the Members Business Register is now up and running on the website. Read all about it HERE
9th June
Shopping in the fast lane
Amy's been able to cut down on the time it takes
to do her weekly shopping, but the other shoppers
look at her funny.
Brian Smith Memorial Clubrun
Congratulations to all involved.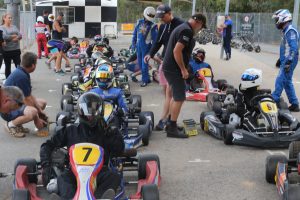 Big turnout
It was great to see so many people turn out for the BSM last month. 97 entrants. It's been quite a while since we've had that many drivers at a clubrun, which is a testament to the high regard in which Brian was held by all in the WA karting community.
I say, "all", as we had a good number of karters from other clubs join us on the day. They were all welcome, and I hoped they felt welcome. The weather played its part, with sunshine through to last light.
All the J's on the outgrid, Ross Sears on pole
Big Thanks
Thanks must go to the committee, who put in a lot of hard work to ensure the success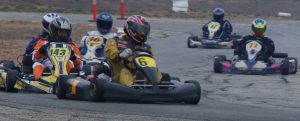 of the day, with prizes for KA4 Seniors and for Cadets. Thanks also to those businesses and individuals who donated – sometimes more than was asked – when they heard it was for the BSM.
Despite technical problems with the CMS computer dogging us early, Gus worked like a trooper to get it sorted and finally managed to get the karts rolling.
Brian's son-in-law Ron Pearce in Brian's kart, chasing trophy winner Kelvin Davies into the bus stop.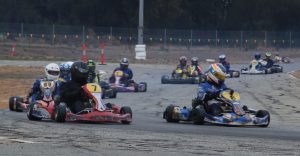 "J's" out in force
Of the 97 drivers, 19 of them – by far the biggest field of the day – were in KA4 Seniors, Brian's favoured class. And in homage to Brian, it was full of J's. It had people who had never raced J's, or even KA4, previously.
One feature of the event had nothing to do with kart racing. It was a foot race of Cadet 9's & 12's from the formation line to the finish line, all in their driving suits, of course.
BSM Trophy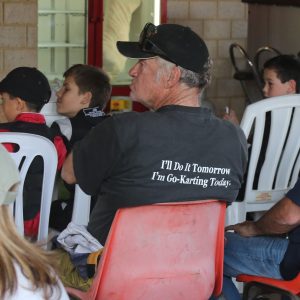 The Brian Smith Memorial Trophy winner was selected by last year's winner and went, with universal approval, to one of our "lifers", Kelvin Davies. Into his 60's and still giving the young ones a hurry up. 'On yer mate.
In what will become the tradition, last year's winner, Dave Harris, selected this year's winner and presented the perpetual trophy.
Kelvin telling it like it is.
Hurricane Spirit
The Hurricane spirit really shone through at the May clubrun. Well done to competitors, officials, canteen staff, pit crew, family supporters…to everyone who made the day such a success.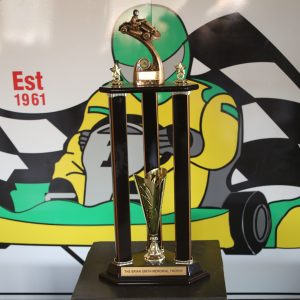 8th June
J Revival meeting at the Collie Winter Cup
3rd May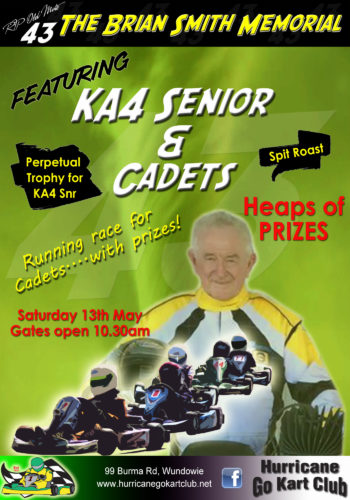 The Brian Smith Memorial Clubrun
The April Newsletter is available on the website. If you have read it or were at the April clubrun, you will be aware that the committee have been busy making sure that the Brian Smith Memorial clubrun in May will be a meeting to remember. With all the prizes on offer, it will be competitive, it will be fast, but above all, it will be FUN.
It will have a different format to any clubrun we have had before, so please check out the special supplementary regulations on the Supp Regs page.
Those of you who knew Brian will know that he embodied what clubrun karting is all about – or should be: He just wanted to race and have fun doing it, without worrying about the result. Even as his illness was overtaking him, he was out there getting race training to bring his times down. Talk about living for today!
So tell everyone you know to make the effort to get out for the May clubrun. Doesn't matter if they're not Hurricane members. Drivers from all clubs are welcome. In fact, non-drivers from anywhere are welcome. We would love to have anyone who wants to, to help out on the day. And it would be great to have people from outside of karting come along and spectate.
If you know anyone who's open to seeing something different, bring them along. This is going to be a great family day and we're really hoping to see you all there.
Anyone who wants to be involved, or wants more information about the day should call Amy on 0412 644 520, or email her at hurricanegokartclub@gmail.com.